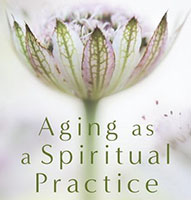 I am Lewis Richmond, Buddhist author and teacher and author of three published books and the recently published AGING AS A SPIRITUAL PRACTICE: A CONTEMPLATIVE GUIDE TO GROWING OLDER AND WISER  (Gotham Books, a division of Penguin USA, January 2012).
ONLINE FULLY INTERACTIVE AGING AS A SPIRITUAL PRACTICE CLASS: Sponsored by www.ContemplativeJournal.com.  4 Weeks in October, 2014.  For information or to register, click here. DISCOUNT FOR MY FOLLOWERS $50, COUPON CODE CJPC. (Note: if you are not a member on Contemplative Journal, you will be asked to become a member before registering for the class.  If you have not entered a credit card and coupon code, you are not registered.  If that occurs, login in at www.ContemplativeJournal.com , login in with your member credentials, click the ENROLL button for the class on the homepage, and try again).
NEWS FLASH: THE MELANTHIUM BAND HAS LAUNCHED! This new jazz-inflected contemporary classical ensemble (Violin, Trumpet, Piano, String Bass) is now performing and looking for bookings.  Its new Melanthium website is now live.  "Fabulous music!" said one listener.  "Colorful and intriguing music!" said another.  The band is playing mostly my compositions, with some American composer additions such as Scott Joplin.  You can listen to our 9 minute live concert sampler Youtube link now.  Check it out and stay tuned for more Melanthium information.  It is the newest thing happening!
July 13, 2014: Update regarding Aging workshops.  I have now shifted the locus of my teaching on Aging as a Spiritual Practice to online classes.  I will be giving a series of three classes on my Aging book, beginning in October, 2014, each four weeks long.  these will be hosted by a new spiritual online magazine Contemplative Journal.  More information about these classes will be posted here as it becomes available.
Check The EVENTS link on this website for details of this and other events.
I recently appeared on the national PBS show "Religion and Ethics."
See the television appearance (4 minutes ) :  Religion and Ethics TV segment
See the extended interview (20 minutes )   : Religion and Ethics Extended Interview
PAPERBACK VERSION  RELEASED JAN. 2013.  To buy on Amazon click here.

APRIL 24, 2013: AGING AS A SPIRITUAL PRACTICE WINS NAUTILUS BOOK AWARD GOLD MEDAL IN AGING / RETIREMENT CATEGORY. 
NEW (Feb. 17, 2013).  See the Teachings page  for four new teaching videos from a recent book reading.
NEW: (Feb. 24, 2013).  Songs of Lazarus, Lewis' piano solo album of original compositions is downloadable from Amazon MP3 here.  This is the Itunes link.
 Selected songs from this album NOW released on YouTube: http://www.youtube.com/lewisrichmondauthor
BOOK JACKET COPY:
The national bestselling author of Work as a Spiritual Practice presents a user's guide to aging well and making every year fulfilling and transformative.
On the road that anyone fortunate enough to have lived this long must take, the first truth of aging is also the first truth of Buddhist teaching: Everything changes. In Aging as a Spiritual Practice, Buddhist priest and meditation teacher Lewis Richmond helps us understand how the transformation can bring new possibilities, fresh beginnings, a wealth of appreciation and a depth of gratitude that profoundly affects how our lives proceed.
Richmond offers an inner roadmap for aging, acknowledging the fear, anger, and sorrow many people experience when they must confront the indignities of their aging bodies and the unknowns associated with mortality, as well as explaining the four key stages of aging:
Lightning Strikes (the moment we truly wake up to our aging)
Coming to Terms (comparing ourselves now to how we once were)
Adaptation (letting go of who we were and embracing who we are)
Appreciation (acknowledging that "This is my life, I have no other")
Regardless of whether you are enjoying growing old, hating it, or in denial, each chapter is filled with relatable anecdotes, includingRichmond's own experience of illness, aging, and transformation. Guided meditations and contemplative reflections help us to see that while we can't escape life's essential problems, we can change our understanding about them and enjoy the process.
Incorporating illuminating facts from scientific researchers, doctors, and psychologists on aging's various challenges and rewards;Richmondexplores the tandem of maintaining a healthy body and healthy relationships infused with an active spiritual life. Using this information, we can pay attention to our own experience of aging through the lens of our emotions, and adapt accordingly, inspiring opportunities for a joy that transcends age.
ADVANCE PRAISE FOR AGING AS A SPIRITUAL PRACTICE:
"This book guides us in navigating aging and reaping the blessings of happiness, openheartedness and inner freedom.  Lewis Richmond writes from the radiance of his own discovery—he is fresh, clear and wise."
—Tara Brach, Ph.D., author of Radical Acceptance
"As someone who recently turned 70, I ate up Lewis Richmond's words. The book is fun and enlightening. I'll never forget some of the stories and the sharp formulas the author uses to remember how to age with some pleasure. The Buddhist point of view is especially fresh and useful. There's some Zen in all of us, deep down."
—Thomas Moore, author of Care of the Soul and Writing in the Sand
"Embedded as our culture is in the fantasy of control and management, our deepest distress rises from being separated from natural process, and our inevitable failure to manage, even defeat aging and mortality.  Lewis Richmond offers a practical, step by step set of attitudes and practices which open the reader to philosophical maturation,     a proactive engagement with the meaning of one's changing state, and the attainment of personal dignity through our shared journey into mystery."
—James Hollis, Ph. D., Jungian analyst and author of What Matters Most: Living a More Considered Life
"Thoughtful, truthful, loving, Lewis Richmond helps us bring attention to the mystery of aging with great kindness and wisdom."
–Jack Kornfield, author of A Path with Heart
 "Life can be challenging at any age and spiritual practice can be beneficial at any age. However, as Lewis Richmond makes crystal clear, these benefits may be especially important and valuable with aging."
—Roger Walsh MD, Ph.D., University of California Medical School, author of Essential Spirituality: The Seven Central Practices
 [chromeless id=jOINtk7oqo4 width=510 height=287 autoplay=no ytcontrols=no]
My book WORK AS A SPIRITUAL PRACTICE is being reiussed June 2011 as an e-book.  Look for it on Amazon Kindle or wherever e-books are sold.  My other books HEALING LAZARUS and A WHOLE LIFE'S WORK are available in multiple editions–see the sidebar at right to purchase.
"Living and Aging as a Spiritual Practice" is the name I give to my work of many years to apply what I have learned from the Buddhist meditation tradition to all aspects of ordinary life.  I began this work in 1999 with the publication of my first book,
Work as a Spiritual Practice: A Buddhist Guide to Inner Satisfaction on the Job, and continued with my second book Healing Lazarus, published in 2002 which recounts my struggles with a devastating neurological illness, and continued with the publication in 2004 of A Whole Life's Work, which examined the spiritual aspects of the various stages of a human life, from childhood to old age.
Since early 2009, I have been exploring the overarching theme of spiritual practice in daily life on my Living and Aging as a Spiritual practie BLOG, which you can visit  here. I am also a keyboardist and composer, and have produced several albums of MUSIC TO GROW OLDER AND WISER BY. For more information visit the MUSIC page of this website.
For more information about my already published books–the national bestseller Work as a Spiritual Practice, the award-winning healing memoir Healing Lazarus, and A Whole Life's Work. Please see the books page of this website for more information.